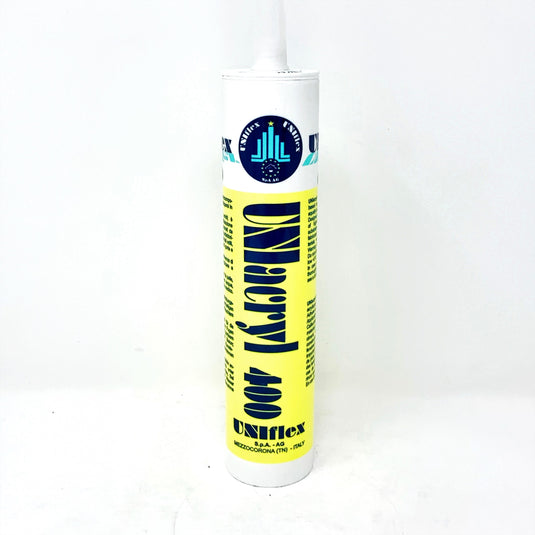 Description
Uniacryl 400 is a one-component sealing putty based on a fungicidal polyacrylic dispersion, which offers high elasticity and great weather-resistance. Undoubtedly, it can be defined as the best representative of the acrylic family since its great technical properties allow for a wide range of applications. 

Uniacryl 400 is especially recommended for joints in prefabricated buildings (blocks, warehouses, etc), accommodating movements and deformations up to 18% of the original joint width; for waterproof sealing between various materials, for building joints (concrete, plaster, brickwork, cement, wood) and for construction parts such as window frames, window sills etc. Not recommended for joints in continuous contact with water. 

Uniacryl 400 can be painted with almost any kind of paint. Tests should be carried out before.

Packaging
310 ml PE cartridges

Colours
White (stock)
Other colours (grey, brown and black), please contact our customer service team

Specifications & features
Specific weight: (1,58 ± 0,05) g/cm3 
Skin over time: 15-30 minutes 
Curing time: 1 to 4 weeks according to joint thickness, temperature and air humidity 
Characteristics after hardening: Volume variation (-17 ± 2)% 
E-modulus 100%: (0,15 ± 0,02)N/mm2 
Joint movement capability: 18% of joint width 
Application temperature: +5 °C to +50 °C
Temperature range after application: -30 °C to + 80 °C 
Surface preparation: The joint width should be designed to accommodate to expected movements. Minimum joint width 6x6 mm, max. 25x20 mm. Surfaces must be sound, clean, free of oil and grease. Use diluted Uniacryl 400 (at brushable consistency) as a primer on highly porous surfaces. 
Shelf life: Up to 12 months. Store dry and cool. Protect from freezing and heat.  

Note: Do not apply in case or imminent danger of rain. Protect from rain for at least 6 hours after application.