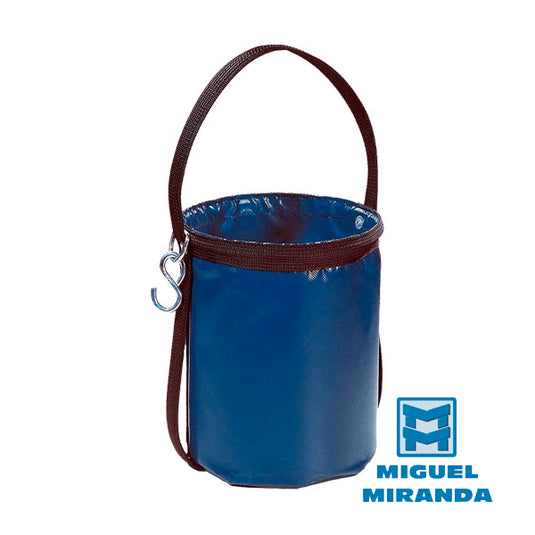 PRODUCT:
Cylindrical bag 210 x 280 mm 

DESCRIPTION:
Miguel Miranda B30 Cylindrical PVC Bag - a reliable and functional accessory designed specifically for professionals working at heights. This bag is a crucial part of a safety harness system, providing convenient storage for essential tools and equipment while ensuring maximum efficiency and security.
Features:

Size: 210mm diameter. 280mm height. 30 mm wide polypropylene ribbon handle. 
Durable PVC Construction: The B30 Cylindrical PVC Bag is constructed with high-quality PVC material that offers exceptional durability and resistance to wear and tear. It is designed to withstand the demanding conditions of working at heights, providing long-lasting performance.
Spacious and Secure Storage: This bag offers ample storage space for tools and equipment required for the job. Its cylindrical shape allows for efficient organization and easy access to your essentials, ensuring productivity and convenience while working.
Reliable Attachment: The B30 Bag is specifically designed to be compatible with safety harnesses, featuring secure attachment points that allow for easy integration with the harness system. It ensures that the bag remains firmly in place, even during rigorous movements or in challenging environments.
Versatile Usage: The Miguel Miranda B30 Cylindrical PVC Bag is suitable for a wide range of industries and applications, including construction, maintenance, jobs requiring rope access work, and more. It provides professionals with a reliable solution for safely carrying essential tools while working at heights.
Lightweight and Comfortable: Despite its durable construction, the B30 Bag is designed to be lightweight and comfortable, minimizing additional strain on the worker. It allows for unhindered movement and all-day comfort, promoting productivity and focus on the task at hand. 
 Download Data Sheet