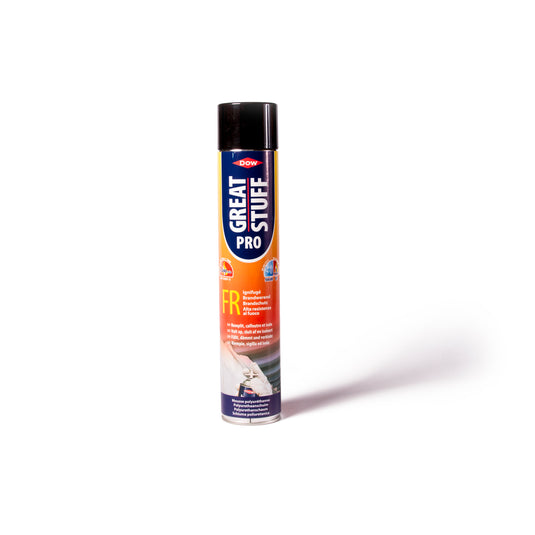 Great Stuff Pro FR - Fire Rated Insulating Polyurethane Foam Sealant (750 ml) with the following classifications:
- up to 5 hours (BS 476 – Report 189853)
- up to 4 hours (EN1366-4 – Report 305492)
- class B1 (DIN 4102 - 1) 
Description:
Great Stuff Pro FR is a moisture-curing one-component polyurethane aerosol foam sealant. It contains an environmentally safe propellant, which complies with the latest EU regulations ((EC) No 842/2006) on the use of fluorinated greenhouse gases in one component polyurethane (PU) products.
It is classified B1 according to DIN 4102-1 and has a fire resistance up to 5 hours according BS476: Part20: 1987, and 4 hours (EI 240) according EN1366-4: 2006. Specific test conditions and test reports are available on demand. 
Typical areas of Application: 
General applications where fire retardant characteristics are required: 
•Restoring the original fire rating for specific penetrations in fire rated walls or floors, 
•Sealing connection joints between different building materials,
•Aid to mechanically fixing and insulating window frames and entrance door linings,
•Filling and insulating gaps, cracks and cavities within various building materials. 
Properties:
- Great Stuff Pro FR adheres to most common building materials including wood, concrete, wallboard and plastic, with the exception of smooth surfaced polyethylene, silicone, oil and grease or similar substrates. 
- Can be used at temperatures from +5°C to +30°C, the optimal processing temperatures being from 18°C to 25°C. 
- Full foam setting time is 12 hours. 
- The Foam can be cut after 1 hour. 
- Once fully set, the foam can be trimmed, sawn, sanded, painted or plastered over. 
- It is thermally stable between -40°C and +100°C. 
- It is durable and permanent except when exposed to UV-rays. 
- Foam exposed to UV light should be painted or covered.
- The heat insulation values are excellent. 
Handling and Storage:
- Store and transport cans always in an upright position and in dry conditions.
- Storage temperature: 15°C – 25°C
- Cans should not be stored in hot areas, such as vehicles in direct sunlight.
- Shelf life: 18 months 
- Packaging: cans of 750 ml
- Carton: 12 cans each
 Download Data Sheet