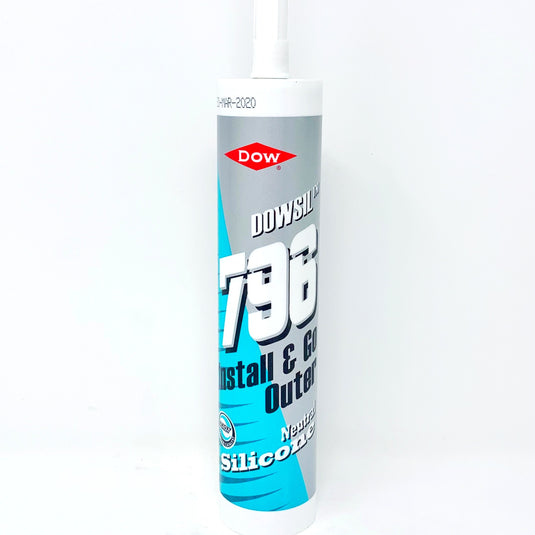 Description
DOW CORNING 796 - PVC-U, Aluminium & Wood Silicone Sealant is a one part, low modulus, neutral curing silicone sealant specifically developed for the sealing of PVC-U, glass, glazed surfaces and brickwork. It is particularly suitable for glazing and the perimeter sealing of window and door frames. 
Features
- Good unprimed adhesion to a variety of substrates
- Low modulus, high elasticity 100% silicone polymer
- Neutral cure 
- Low odour
- Conforms to ISO 11600-F&G-25LM 
- Resistant to ozone, ultra-violet radiation and temperature extremes 
Usable Life & Storage
When stored at or below 30°C (86°F) in the original unopened containers, Dow Corning 796 has a usable life of 12 months from the date of production. 
Limitations
- Dow Corning796 Neutral Silicone is not recommended for structural glazing or insulated glazing applications.
- Do not use Dow Corning 796 Neutral Silicone on bituminous substrates, substrates based on natural rubber, choloroprene or EPDM or on building materials which might bleed oils, plasticisers or solvents.
- Do not use Dow Corning 796 Neutral Silicone in a totally confined space because the sealant requires atmospheric moisture to cure.
- It is not recommended for use on submerged joints, or in joints where physical abuse or abrasion are likely to occur. 
- Bleeding can occur on porous substrates, such as concrete, marbles, granites and other natural stones. Specific testing should be carried out on sensitive substrates.
- Dow Corning 796 Neutral Silicone is not suitable for food contact applications.
- It is recommended that Dow Corning 796 Neutral Silicone is not applied to surfaces that are below 5°C (41°F) as it is impossible to guarantee a dry surface at these temperatures.
- This product is neither tested nor represented as suitable for medical or pharmaceutical uses. 
Colours
Available in different colours: white, stone, grey, anthracite, black. 
 Download Data Sheet