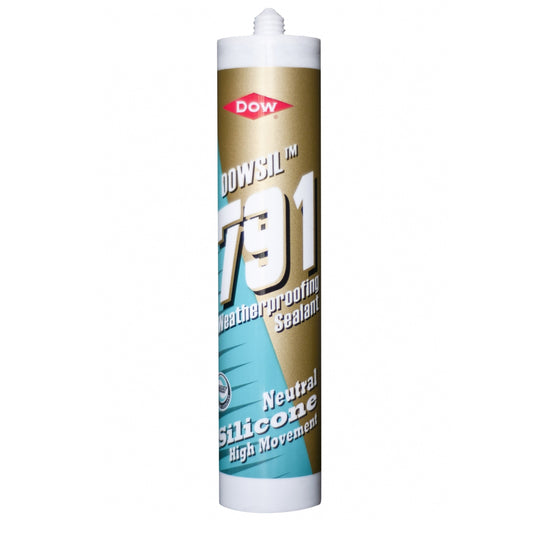 Description
DOW CORNING®791T Weatherproofing Sealant is a transparent one-part silicone sealant. The product is a premium, one-part, easy to use, neutral curing, transparent, silicone sealant. It has excellent weatherability and flexibility. This low modulus silicone sealant has outstanding primerless adhesion to a wide variety of non-porous & porous substrates. Performance related to mildew and fungus resistance has been tested in accordance with the ISO-norm 846. 
Features
- Will accommodate up to 50 % joint movement 
- Excellent adhesion to a wide variety of construction materials such as concrete, stone, masonry, brick, wood, steel, glass, glazed surfaces, painted or varnished wood and ceramics 
- Ideal sealant for expansion, connection and other movement joints as its low modulus allows high movement but generates relatively low stress at the adhesion interface 
- Conforms to ISO 11600-F&G-25LM 
Benefits
- Compatible with typical PVB foils. Project-specific testing available upon request 
- Easy, conventional tooling 
- Excellent resistance to weathering 
- Good recovery after extension and compression 
- High resistance to ozone, ultra violet radiation and temperature extremes 
Usable Life & Storage
When stored in cool, dry conditions below 30ºC (86ºF) in the original unopened containers, DOW CORNING 791T Silicone Sealant has a usable life of 18 months from the date of production. 
Packaging
DOW CORNING 791T Silicone Sealant is available in 310ml cartridges (12 per box). 
Limitations
DOW CORNING 791T Sealant should not be used against substrates that bleed oils, plasticizers or solvents. It is not recommended for use against certain plastics, generally of the flexible, plasticized type. In situations where bleeding or staining is a risk, it is recommended that you use DOW CORNING®756 SMS Building Sealant. Dow Corning 791T Sealant has been generally tested for compatibility with some typical PVB foils. However, project-specific testing is strongly recommended with contact materials before any use. For specific advice consult your local Dow Corning Technical Services Department. This product is neither tested nor represented as suitable for medical or pharmaceutical uses. 
 Download Data Sheet