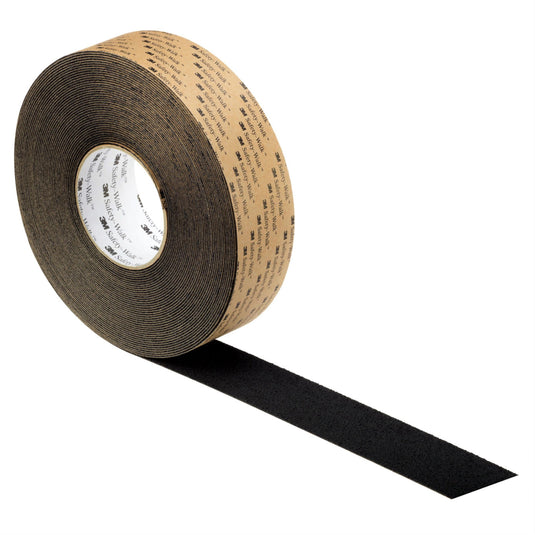 Description 
3M 610 Safety Walk Multi-Purpose Self Adhesive Grip Tape for both internal and external use. It is fast to apply and long lasting. 

Easily enhance the safety of your customers and employees by applying strips of 3M 610 Safety-Walk slip-resistant tape to areas of your establishment that are high-risk for slips and falls! This general purpose black tape comes in a 25mm x 66m roll and has a mineral-coated surface to create friction that combines with a low-profile design to drastically reduce tripping hazards. Thanks to the pressure-sensitive adhesive backing, installation is as simple as firmly pressing it onto a prepared surface. There's no need to deal with cumbersome anchors or mats at installation or worry about wrinkling, curling, tearing, shrinking, or lifting after the fact, even under the rigors of equipment traffic! As versatile as it is effective, this tape can even be applied to other surfaces like ladders, construction machines, and more!

Specification 
- For light to heavy shoe-traffic areas 
- Mineral-coated, high friction slip-resistant surface 
- Thickness: 0.76mm 
- Size: 25mm x 66m
- Colour: Black 
- Application: To add grip to any slippery surface.