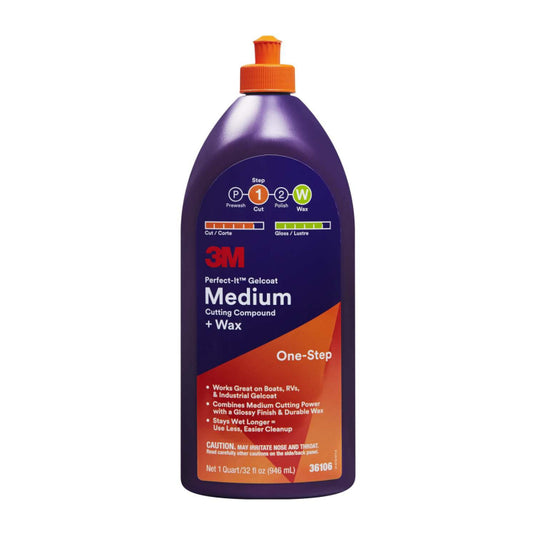 Description
3M™ Perfect-It™ Gelcoat Medium Cutting Compound + Wax combines medium cutting power with durable wax for professional-grade one-step gelcoat compounding. It removes major defects and scratches P1000 or finer, and leaves a glossy wax finish that helps protect against weathering and may not require polishing.
Features 
For a truly professional gelcoat finish, the 3M™ Perfect?It™ Gelcoat Medium Cutting Compound + Wax combines fast cutting compound and a durable shell for the surface in one step. Its premium chemical and mineral formula quickly removes oxidation, weathering, dulling, chalking and scratches as coarse as P1000. 
- It leaves a high gloss wax finish. The compound, which is suitable for environments not sensitive to silicone, quickly restores the beautiful luster to scratched and oxidized boat surfaces. It leaves an excellent finish in one step. 
- The compound also has a long wet time, allowing you to compound longer before you need new material. You use less product even in warmer climates, yet it handles well and does not clog on the buffing pad. 
- The formula also includes a wax coating which helps protect the compounded gelcoat surface from the elements and reduces the need for further polishing or waxing. From buffing professionals to vehicle owners, the 3M™ Perfect?It™ Gelcoat Finishing products works great on boats, caravans and industrial gelcoat surfaces – new and used alike.
- These products include a step-by-step process to help you achieve dependable finishes every time, regardless of one-, two- or three-step processes. The color-coded bottles allow for easy reference in the shop or on the dock. The full series of 3M products created specifically for gelcoat includes 3M™ Perfect?It™ Boat Wash, 3M™ Perfect?It™ Heavy Cutting Compound, 3M™ Perfect?It™ Light Cutting Polish + Wax and 3M™ Perfect?It™ Boat Wax. 
Directions for Use
Compound between 1200 and 2000 rpm using a buffer equipped with a 3M™ wool or 3M™ foam compounding pad.
1. Apply enough material to work a 2` x 2` area with a thin film throughout the buffing process. The product is designed to be used wet and buffed with a thin film. Important: If too much compound is applied to the surface, product may create a heavy film that reduces workability
If this occurs, remove excess material from both panel and pad surfaces. Spur buffing pad as necessary. 
2. Start buffing with medium pressure between 1200 and 2000 rpm. For optimal finish, as the product begins to dry, reduce pressure at end of buffing cycle. Product can be buffed or wiped dry.
3. Use a soft cloth to remove any residual film and/or sling before moving on to another panel or before polishing. 
 Download Data Sheet