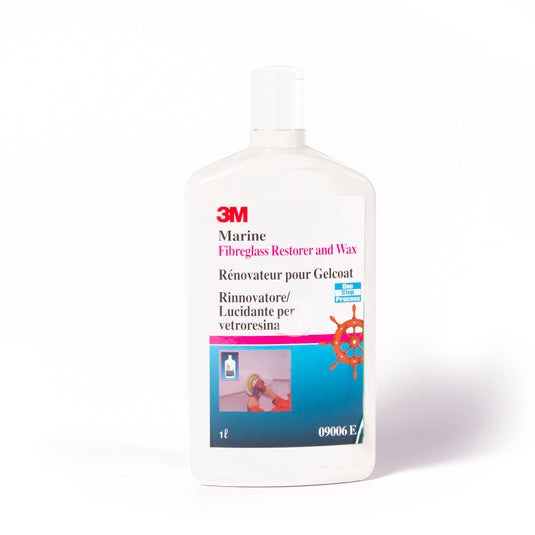 Description
3M Marine Restorer and Wax removes heavy oxidation and polishes to restore shine and color on your boat. The unique formula combines rubbing compound and wax. It is recommended for boats and caravans.
3M Marine Restorer and Wax polishes and protects fiberglass and gelcoats using a convenient liquid formulation that combines a compound with a special blend of waxes. In one application, you can restore shine and add a layer of protection that will keep your boat or caravan glistening in the sunlight.
3M Marine Restorer and Wax revives and protects the shine that makes a boat look good out on the water. It tackles everything from oxidation to rust deposits, including filmy residues from ocean water, rust deposits, exhaust stains and dock skid marks. It strips away the oxidation and other coatings that mask the true color and shine of your boat. After using our product you will quickly notice a more glossy shine and deeper, more vibrant color. It includes a protective wax to keep your boat looking great! The waxes add protection that helps preserve the appearance of your boat when exposed to sunlight and weather. It will keep your boat looking stunning out on the water and moored at the marina.
In addition to boats, 3M Marine Restorer and Wax can also be used on other vehicles with fiberglass and painted surfaces such as caravans and personal watercraft. This product is suitable for fibreglass repair, gelcoat restoration and general boat detailing. Removes heavy oxidation, rust, corrosion, chalking, fading, scratches and exhaust stains. Provides shine and a protective coating on fiberglass, gelcoat, metal and topside paints.
One step process, 1L bottle. (If you need a smaller 500ml size, please refer to product MT3M-09005E).

 Download Data Sheet